Experience first-hand how to find solutions efficiently
Nowadays, less and less adhesive bonding and potting processes are standard. For the design of optimized dispensing processes, it is important to find the answers to some very fundamental questions like "Does the material meet the application's requirements?" long before production launch.
These questions are best answered through trial and error. It is a proven fact that professionally conducted dispensing tests achieve economical results close to serial production and therefore provide the necessary reliability for the quality of your products.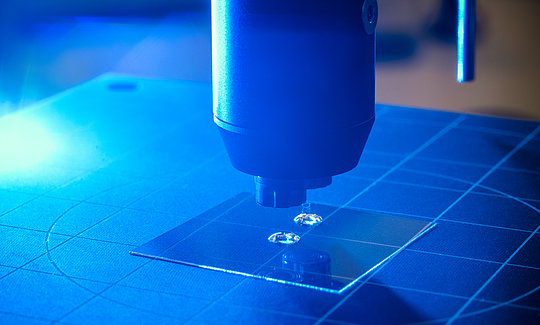 In addition to state-of-the-art dispensing, sealing and potting technology, high-performance systems for pre-treatment and post-treatment (including plasma pre-treatment, UV curing & more) are available in our 350 m2 Technology and Application Center for testing.
Take advantage from the know-how and experience of our expert teams combined with professional equipment. Thanks to our close cooperation with numerous renowned material manufacturers, you also benefit from bundled material and process know-how.
Your advantages
Highest process reliability through near-series conditions
Increased efficiency due to optimized process concepts
Possibility to optimize component geometry for potting processes early on
Competent advice and support by potting experts
In the course of a Dispensing Test Day, we answer the following questions, among other things
Does the potting material perform as I expected?
What cycle times can be achieved?
What would be the ideal equipment for my production needs?
Our services
Highest process reliability through near-series conditions
Increased efficiency due to optimized process concepts
Possibility to optimize component geometry for potting processes early on
Competent advice and support by potting experts